We return to school for Term 4, 2020 with the exciting news that all students will commence back onsite next Monday 12th, October. We could not be happier to have our magnificent students back at school and we look forward to reconnecting with all of our wonderful families. 
We recognise that this has been a difficult year for many and we look forward to returning to a successful term of learning at St. Joseph's. We thank you for working so well in partnership with us and for the significant contribution you have provided your families throughout this most unprecedented year.
The focus for this term is on wellbeing and mental health.
Our COVID to Christmas visual below outlines all of the things we will focus on coming back into school. It is a journey of wellbeing where we will strive to ensure a positive finish to the year that celebrates, that collaborates and that engages all of our community in whatever way this can be done. 
Please take the time to read through the visual to ensure you are aware of all that the school will do to support and enhance the learning of your child throughout the remainder of the year.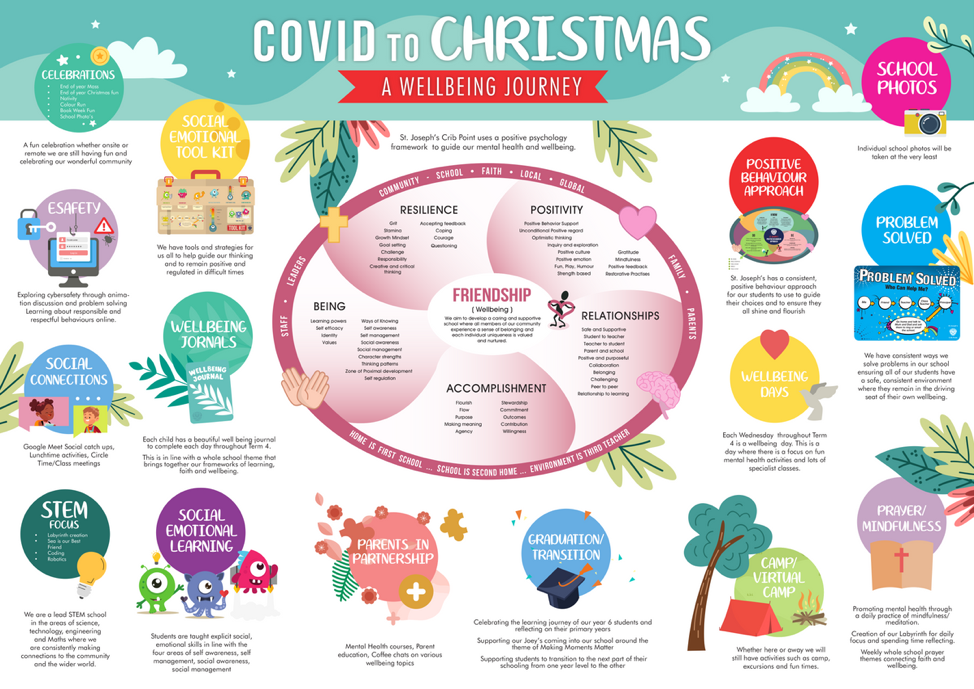 Our journey of wellbeing is very much in line with the priorities issued by the Catholic Education Commission of Victoria in the latest operational guidelines released today.
Priority 1 – Mental Health and Wellbeing
The highest priority is the mental health, safety and wellbeing of every student and member of staff.  This will involve encouraging and sustaining motivation for learning, re-engaging students and families where needed, and supporting the social and emotional learning of children and young people alongside curriculum-based learning.
Priority 2 – Learning and Excellence
Some students have been better able to progress in their learning in the remote and flexible learning environment, others have maintained their rate of progress, and some have, despite their best efforts and those of their families and teachers, fallen behind.
The priority will be to ensure those who have fallen behind can catch up and those who have progressed significantly can continue to be extended and stretched in their learning.
Student voice and student agency will inform how we provide continuity of learning and support for every student in this environment.
Literacy and numeracy across the curriculum remain a focus, with schools also adapting their teaching and learning program in Term 4 to be responsive to student needs. 
Priority 3 – Transition
Term 4 is a critical period, particularly for the children moving from kindergarten into Prep, from Grade 6 into Year 7.  Students in other year levels will also prepare for transition to the next year level throughout Term 4.
At St. Joseph's we are committed to the above system priorities and will strive to ensure every student has the very best learning conditions and support possible. This will include a whole school focus on our positive behaviour support and on consistent routines ensuring a calm and safe environment for all students. 
Further information will be sent out this week regarding drop off, pick up arrangements and other COVID safe practices we are mandated to implement. Please make sure you are checking your emails each day for any updates. 
Our focus is on keeping all of our community COVID free and safe. 
As Principal, I am here to ensure this occurs and that every student, parent and staff member continues to be supported throughout the remainder of 2020. 
Please do not hesitate to contact me on principal@sjcribpoint.catholic.edu.au and I will be here to support you in any way I can.